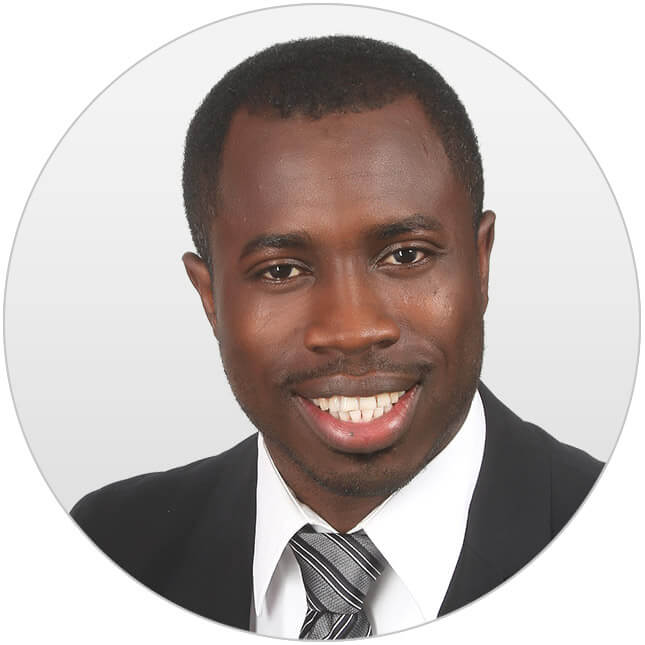 Pastor Onyedika Igbokwe was born in 1981 in Enugu State, Nigeria where he became a Christian and received Jesus Christ as Lord and Savior at the age of 16 years. As a teen, he received the call and was given the mandate by the Lord to work in the harvest of souls in His [God's] vineyard. Over two decades, Onyedika pursued this mandate as an itinerant evangelist, preaching the Gospel of Jesus Christ with passion and fervently in churches across Africa and, now, in Europe.
Onyedika holds a B.Sc., in Geosciences from the University of Nigeria Nsukka, and moved to Germany in 2010 where he studied master programmes in Geoinformatics and Geoscience – Resources and Energy at the University of Muenster and Bochum respectively. He also completed a Theological Seminary Training at Beroa (Erzhausen) Germany, and, in 2014, he co-founded the Gemeinde aller Nationen – All Nations Christian Church e.V. Münster, where he lives with his wife Jennifer and children.
Onyedika currently works as a Research Associate at the Ruhr University Bochum, and he continues to pursues the mandate to 'raise a people ready for the end-time move of God'.
---
Onyedika Anthony Igbokwe wurde 1981 in Enugu State, Nigeria, geboren, wo er mit 16 Jahren Christ wurde und Jesus als seinen Herrn und Retter annahm. Als Teenager empfang er vom Herrn die Berufung, Seelen in Seinem (Gottes) Weingarten zu gewinnen. Über zwei Jahrzehnte folgte Onyedika diesem Ruf als umherziehender Evangelist und predigte das Evangelium von Jesus Christus mit Hingabe und Feuer in Kirchen quer durch Afrika und, nun, in Europa.
Onyedika hat einen B.Sc. in Geowissenschaften der Universität von Nigeria Nsukku und zog 2010 nach Deutschland, wo er seine Masterprogramme in Geoinformatik und Geowissenschaften- Ressourcen und Energie- an der Universität Münster und Bochum absolvierte. Außerdem absolvierte er ein theologisches Training an der Beroa (Erzhausen) Deutschland, und im Jahr 2014 war er Mitgründer der Gemeinde aller Nationen- All Nations Christian Church e.V. Münster, wo er mit seiner Frau Jennifer und deren Kindern lebt.
Gegenwärtig arbeitet Onyedika als wissenschaftlicher Mitarbeiter an der Ruhr Universität Bochum, und verfolgt weiterhin seine Berufung "Menschen hervorzubringen, die bereit für die Endzeit- Erweckung des Herrn sind".
You Want To Partner & Support Our Work?